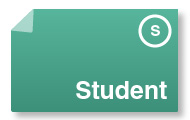 What is Student Membership?
Free student membership is available to any student enrolled on an IES accredited undergraduate or postgraduate programme. Student Members receive electronic version of all IES publications.
Is it for me?
You must be studying on one of the programmes shown below to qualify. Students on undergraduate programmes not shown below should apply for affiliate membership. Students on postgraduate programmes should consider the appropriate membership grade (Affiliate, Associate or Full) and are eligible to pay the reduced fee of 25% of the full costs.
How will it help my career?
Enhance your job prospects by demonstrating your commitment to your development and boosting your skill-set through the numerous training, education and professional activities on offer
Experience being a member of a long established and highly reputable environmental science professional body.
Use the post nominal StMIEnvSc up to the end of the calendar year in which you graduate, signalling your professional commitment, to potential employers
Take the first steps on an environmental career path which could take you to Chartered status. Those with Chartered status earn more throughout their career
Exclusive access to the Members area on our website, including access to the latest edition of our journal environmental SCIENTIST and member-only reports
ES Monthly Newsletter
Be better connect with networking opportunities through free or reduced entry to IES events
Opportunity to upgrade for free to Associate membership upon graduation