In this presentation Gloria will give an update on UK national policy related to reducing road transport GHG and air pollution emissions, provide a high level overview of the current zero emission technology and low carbon fuel landscape with examples of market developments for cars, trucks and buses. This will include electric battery, biofuels, low carbon hydrogen and retrofit technologies for older diesel vehicles. The presentation will touch on charging and refuelling infrastructure.
---
Our speaker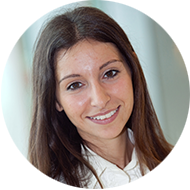 Gloria Esposito is the Head of Projects at Low Carbon Vehicle Partnership. Gloria's work experience has focused on local air quality management and greenhouse gas emission reduction for the last 15 years. Whilst at the LowCVP's she has influenced a number of national policy areas including the Clean Vehicle Retrofit Accreditation Scheme and Clean Bus Retrofit Fund, the Ultra-low emission bus fund and re-designed the new car CO2 label. She has produced technology and policy guides related to low emission vehicles. Gloria currently leads LowCVP's activities on low carbon fuels and vehicle life cycle analysis.
Prior to joining LowCVP she held positions at the London Borough of Camden, Bureau Veritas and Kings College London.

Our webinars are free for all to attend. With the speakers permission each episode will be recorded and added to our YouTube channel for you to view after the event. Please subscribe to our YouTube channel to view these episodes and make sure you do not miss any new episodes being added.