This webinar will explore the role of plastic in current society and how existing recycling and reprocessing infrastructure can be improved and enhanced to capture and recycle more plastic waste, avoiding escape into the environment. Susan will consider how we can encourage society to reconsider the widespread use of plastic and to recognise plastic as a resource that must be dealt with responsibly. The role of policy and regulation (in the UK) will also be examined and how this can be used to drive innovation and change in the way we handle plastics after first use.
---
About the speaker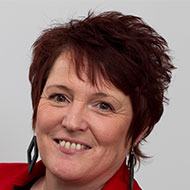 Susan has been with WRAP Cymru since its inception in 2008 and was appointed as Circular Economy Technical specialist in 2017. She has many years' experience working with the resource management sector and with manufacturers in Wales, driving circular economy initiatives across a wide range of sectors. Prior to joining WRAP Susan lectured on environmental management, air and water pollution, she has an MBA, PG Dip in Sustainability, Planning & Environmental Policy, and a BSc in Environmental Science 1st class (Hons).
This webinar is free to join and open to both members and non-members of the IES.