Water quality is a crucial indicator to the health of river ecosystems, yet as many as 47% of European water-bodies do not meet 'good ecological status'. With more than 189,000 km of river in the UK alone, monitoring is an extensive task. Current water quality monitoring approaches lack spatial and temporal resolution which means pollution is not being sufficiently detected and fixed.
Reliable, real-time water quality data from sensors is increasingly being shown to be of value in providing an evidence base to enable effective tackling of pollution at the catchment scale. Now, an EU Horizon 2020 Innovation funded project called INTCATCH is taking advantage of advances in monitoring technology to develop innovative, cost-effective, user-friendly, automated/remote control 'smart' boats equipped with multi-parameter sensors to carry out mobile, real-time water quality monitoring and mapping, linked to a decision support system. These tools will greatly improve our understanding of river and lake environments as holistic systems through identification of sources, transport processes, mass balance and fate of pollutants entering the water body. The high degree of autonomy of sensors systems in sampling campaigns will also facilitate robust data collection by non-expert citizen scientists, therefore enabling communities to become stewards of their local river ecosystem.
This webinar will outline the potential of mobile sensor platforms to enable a paradigm shift in how water quality is monitored and who is able to carry out the monitoring, in order to move the water and environment sectors towards 'SMART' Rivers and Lakes and evidence based monitoring and decision making.
---
About the speaker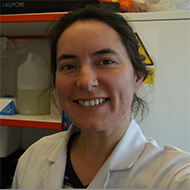 Nathalie Gilbert has a PhD and a Masters in Environmental Science from the University of East Anglia. She is passionate about harnessing new technology to monitor the environment and solve environmental issues, especially water quality and pollution in our waterways. Currently working for waterways charity Thames21, her role is project manager for a Horizon 2020 Innovation project called INTCATCH. With her team, this involves trialling and demonstrating the robotic 'smart lab' boats and other INTCATCH sensors and decision support technology in urban rivers in London. This includes encouraging and supporting community groups to use INTCATCH tools to tackle their local pollution issues by carrying out their own pollution investigations. She also lectures in Environmental Science at Brunel University.
These webinars are free to IES members and Thames21 employees.
Email Rhianna to register to attend