This webinar will outline the changes UK agriculture has undergone since the end of the Second World War, the so-called "Green Revolution", exploring the major drivers behind the changes and the often unintended impacts they have had on the UK landscape. The speaker, Ian Davis will illustrate this with examples from his own farming and environmental experience and set out the wide range of in current practices in UK farming across the arable and pastoral sectors.

Following this, Ian will describe the fundamental principles of regenerative agriculture and why this is different from current mainstream agricultural thinking. He will explain how regenerative agricultural management offers the scope to reverse the ecological decline driven by modern intensive farming whilst continuing to produce food from the land in much the same quantity and potentially at greater profitability and higher nutrient density. He will use examples from his own experience to highlight how virtuous circles of management change can be created which facilitate ecological diversity recovery, increase resilience to pests, while reducing or eliminating the need for agrochemical inputs, and increase resilience to climate challenges.
---
Our speaker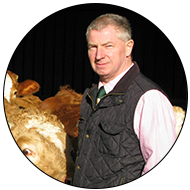 Ian Davis only recently ceased breeding cattle on his small Hertfordshire farm. He studied Agriculture at Harper Adams College in the 1980's then returned to the family farm in 1988. Three years later he joined the National Rivers Authority, alongside farming, when Bovine Spongiform Encephalopathy hit the income of the farm. For 23 years he managed river maintenance and flood incident response across North London, Herts and Essex. He transferred into the Environment Agency (EA) in 1996 where he was the area Flood Risk Incident Recording System Lead, contributed to several national river management R&D projects and was the flood risk lead for the 2012 London Olympic park. After leaving the EA he spent nine months working for NHTB consultancy managing the tracing and rectification of urban sewage misconnections which were polluting surface watercourses.
He resumed full-time farming in 2015 and has become increasingly focussed on reducing the environmental impact of agriculture. He has completed the Savory Network Holistic Management training and operates Holistic Planned Grazing at home. He is a chartered member of CIWEM, where he sits on the Natural Capital Specialist Panel, and is a full IES member. He is also a member of the Middle Lee Catchment Partnership, the Central Herts Green Corridor Group and is a trustee of Celtic Harmony, an outdoor educational charity. He is currently undertaking a masters degree in environmental science with the Open University with a special interest in rivers and carbon sequestration in farmed landscapes.