The UK Government has now announced plans for the new Streamlined Energy and Carbon Reporting (SECR) regulations which will take effect in 2019. This new reporting framework will replace the CRC Energy Efficiency Scheme (CRC EES) and extend the scope of the existing Mandatory Carbon Reporting (MCR) regulations for listed companies to all large organisations. It is estimated that upwards of 10,000 businesses that were previously outside of the scope of MCR and CRC will now have to disclose energy use and carbon emissions annually – a massive shift from the 1,600 currently reporting under MCR in 2018.
In this webinar, James Tapson and George Baker will unpick what SECR covers, what it means for the thousands of businesses that now have to disclose and explain practical steps organisations can take to ensure compliance in 2020.
---
About the speakers
James Tapson is a Senior Consultant in the Sustainability & Climate Change team at WSP. James has five years of sustainability consultancy experience during which he has had a particular focus on carbon and resource management, in the UK and internationally. He has undertaken carbon modelling on a wide range of public sector infrastructure and energy projects and has significant experience in carbon management and disclosure for corporate clients. James spent three years coordinating the sustainable design and carbon management process on the Midland Mainline Electrification rail upgrade scheme, and provided assurance on the carbon footprint submitted as part of the HS2 Hybrid Bill. More recently, his work has ranged from developing a carbon inventory for a multinational chemicals company to delivering a global sustainability strategy for a Scottish luxury drinks manufacturer. James also leads WSP's partnership with the Carbon Disclosure Project.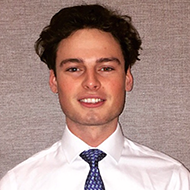 George Baker is a Graduate Consultant in the Sustainability & Climate Change team at WSP. George specialises in corporate environmental and sustainability management across multiple sectors, supporting the delivery of a number of high profile sustainability strategies. George assists in the administration and delivery of the Airport Carbon Accreditation (ACA) Programme, the only institutionally-endorsed, carbon management and reporting certification standard for airports - ACA currently has more than 200 airports certified within the scheme globally. George is an account manager for more than 50 airports globally. In July 2018, George co-authored a white paper setting out ten recommendations from WSP and supporting organisations for the implementation of resource-efficient, circular thinking in the built environment which were then presented at Costain's Annual Sustainability Conference this year.
These webinars are free for all to attend.
All webinars are recorded and made available on our YouTube Channel, follow us and make sure you don't miss an episode.