Spending time in tranquil spaces has clear benefits to people's health and well-being. The protection and enhancement of tranquillity is therefore an important step for a civilised, healthy society. This applies both in rural environments, where current levels of tranquillity may be high but under pressure of development; and in urban environments, where tranquillity may be relatively low but, compared with a busy surrounding area, a location which feels only "slightly" tranquil may be considered to be a valuable resource.
There are strong drivers from the UK government to try to promote, improve and protect tranquil places. However, without a reliable way of assessing tranquillity and without even an agreed definition of what is meant by "quiet", the designation of tranquil areas and their subsequent protection is difficult to achieve. For this reason, a reliable, repeatable method of assessment is needed. Clive has spent the last 3 years developing such a method.
---
About the speaker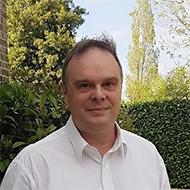 Following an early career in industry (various scientific services) and working for local Government (noise and pollution team), Clive moved to Sharps Redmore in 2005 to work as an acoustic consultant specialising in the assessment of environmental noise. Since then, he has carried out many hundreds of assessments for a wide variety of industrial, residential and commercial projects. He regularly provides expert noise evidence in relation to planning appeals and nuisance cases. He is the technical lead for acoustics for Sharps Redmore on the Sizewell C Power Station project and also leads a team within the company which produces environmental noise and vibration assessments for other projects. Since 2015, Clive has been researching and developing expertise in the emerging field of tranquillity assessment in relation to developments in both rural and urban locations. He has almost completed writing a book on this subject which is due to be published later in 2018.
This webinar is free for IES members, email Rhianna to register