We are delighted to announce this year's Burntwood Lecture will be Chaired by Professor Dieter Helm, Official Fellow in Economics at New College, Oxford and Professor of Economic policy at the University of Oxford. Dieter is also the current Chair of the Natural Capital Committee where he works closely with our speaker, Professor Kathy Willis, one of eight experts who sit on the committee.
About our Chair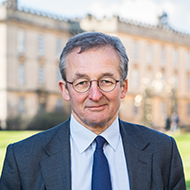 Dieter has recently completed the Helm Review on The Cost of Energy for the British Government. Dieter is also an established writer, his recent books include The Carbon Crunch - revised and updated edition (2015), Natural Capital - Valuing The Planet (2015) and Burn Out: The endgame for fossil fuels (2018), all published by Yale University Press. In the Spring of 2019, he will publish Green & Prosperous Land, published by William Collins.
By defining natures 'assets' and attempting to place a monetary value on its services, do we unintentionally impede conservation attempts and increase the vulnerability of the natural world? This year's lecture will discuss the moral, methodological and conceptual challenges faced when attempting to put a price on biodiversity.
As expected there are a very limited number of tickets left for this year's lecture, make sure you register soon to avoid disappointment. Use Password: IESBURNT2018 when prompted.
Biodiversity week
As part of a biodiversity week at the IES, Ed Turner, Lecturer and Curator of Insects at the University Museum of Zoology, Cambridge will be presenting a webinar on the 6th November to discuss 'The future of tropical agriculture'. Ed will discuss the detrimental effects extensive palm oil plantations are having on biodiversity and ecosystem functions and explore some sustainable management solutions.
This webinar is free to attend, register for this webinar here.