Careers in the Environmental Sciences
The environmental sector is extremely diverse, spanning disciplines, sectors and organisation types, and the definition of what makes an environmental or green job is fluid and ever-expanding. ​
​With the growth and diversification of the environmental sector, there is a myriad of rewarding careers to be discovered. The four established routes towards research, policy, regulation or consultancy still exist, but numerous specialisms have opened up within them, and new career pathways into entrepreneurship, social enterprises, industry and design have emerged. ​
​To navigate the variety/breadth in the discipline, we have gathered resources and insight from environmental scientists on this page to help you navigate the broad spectrum of opportunities available in the environmental sector.​
Routes into the sector
Traditionally becoming a professional in the environmental science sector has required a relevant higher education degree. However as the profession expands there are increasing numbers of professionals entering the sector having completed technical education and apprenticeship routes.
Whilst the IES is not an educational provider, we accredit a number of degrees and apprenticeships. Our accreditation has a strong emphasis on employability, meaning that students on these programmes have excellent opportunities to develop skills for professional practice.
What can you do with an Environmental Science qualification?
Once you have gained relevant qualifications, there are numerous career pathways you can take. Here at the IES we represent professional working across the spectrum of environmental specialisms. The diagram below demonstrates the variety of specialisms our members have gone into after completing their degrees.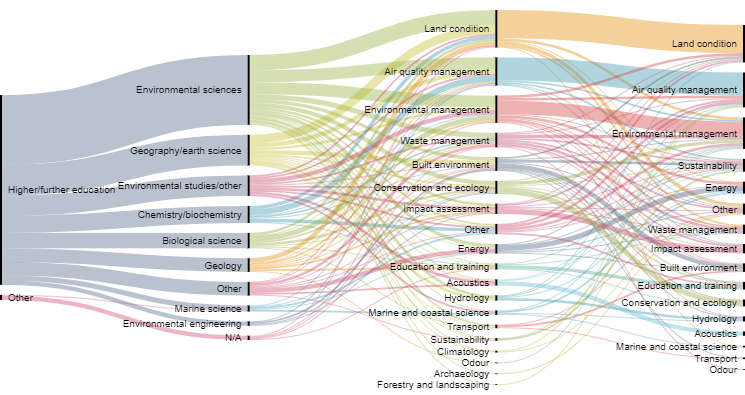 Learn from those in the job
We asked members about their career pathways/journeys, how they got to their current role, what they studied, and what advice they have for anyone just starting out in the sector or seeking a change.