After decades of warnings, Climate Change is beginning to bite. Fires, floods, storms and the impacts of sea level rise are becoming the commonplace backdrop of daily life. Yet the collective human response remains muted. Some people, including senior political figures, persist in denying the realities. We are participating in an historic folly. It's not rocket science to understand why. The human brain evolved to cope with very different circumstances than those we face today. Similarly, our institutions and social systems evolved during a period of unusual climatic stability for purposes misaligned with reducing carbon emissions or responding in a coordinated manner to a globally distributed threat. I will explore the factors at play to see if and how we might do better.
---
About the speaker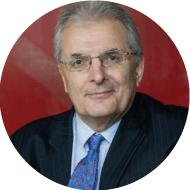 Professor Chris Rapley CBE, is a Professor of Climate Science at University College London. He is a Fellow of St Edmund's College Cambridge, a member of the Academia Europaea, Patron of the Surrey Climate Commission, and a member of the Science Museum's Science Advisory Board. His previous posts include Director of the Science Museum, Director of the British Antarctic Survey, Chairman of the London Climate Change Partnership, President of the Scientific Committee on Antarctic Research, Executive Director of the International Geosphere-Biosphere Programme, and founder and Head of UCL's Earth Remote Sensing Group. He is Chair of the UCL Policy Commission on Communicating Climate Science.
More recently Chris was the Science Consultant on BBC1's 'Climate Change – The Facts' presented by Sir David Attenborough. In 2003, Chris was appointed CBE by Her Majesty the Queen. In 2008, he was awarded the Edinburgh Science Medal for having made 'a significant contribution to the understanding and wellbeing of humanity'. His current interests are in the role of climate scientists in society and the communication of climate science.