In this webinar, Luke Douglas-Home will outline the known problems and some suggested solutions of these two enormous environmental issues – foreshore plastic and historic landfills – and would love fellow IES members to have input.

Last year was the first year of the UN's Decade of Ocean Science: these two issues seriously threaten the health of the oceans and their directly related biodiversity. It couldn't be more serious.
Speaker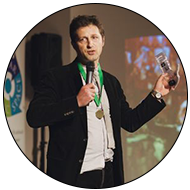 Luke Douglas-Home CEnv, is a chartered environmentalist who runs A Future without Rubbish CIC. It works in schools, in England, Romania and India. He also runs the coast, known as 'The Coastline Runner'. In a feature on him, The Times called him "The UK's Forrest Gump"

They have run successful campaigns (from 'One Bag Zero Waste', to paper recycling campaigns abroad and 'A Future without Rubbish'. Legislatively successful was the 'Stir Crazy' campaign – unifying schools, councils, businesses and communities (SCBC). Their campaign was listed in Defra's impact assessment and it was supported by the Secretary of State. He has had Interviews for podcasts, interviewed on radio, TV and newspapers and presents to the plastics industry.

Recent work and campaigning includes The Coastline Runner initiative– running coasts, collecting foreshore plastic, investigating both the 'binfrastructure' and signage and engaging with landlords and councils to reduce the plastification of our seas and the risk inherent in 'historic landfill sites'. So far, he has run 500 km from Lowestoft to Newcastle collecting over 500 kgs of plastic trash. A Future without Rubbish now advises councils and landlords along this coastline. In the spring, he will complete the Newcastle to Edinburgh leg, after attending the Ocean Summit in Lisbon.