The National Quality Mark Scheme (NQMS) for Land Contamination Management is a scheme that has been developed by the National Brownfield Forum (formerly known as Land Forum) to provide visible identification of documents that have been checked by a Suitably Qualified and experienced Person (SQP).
The NQMS provides confidence regarding the quality of a submission being made under planning or another regulatory regime. For a fee of £75 each, a NQMS mark and declaration of conformity can be attached to a report to show the regulators that the document is accredited as being both complete and of the required technical standard.
The initiative is supported by both the Ministry of Housing, Communities and Local Government (MHCLG) and the Department for Environment, Food and Rural Affairs (Defra) in addition to a growing number of Local Authorities and the Environment Agency (EA).
---
About the speaker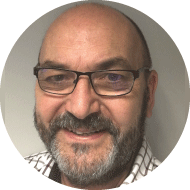 Seamus Lefroy-Brooks is multi-chartered as a Civil Engineer, Geologist and Environmentalist and is a UK Registered Ground Engineering Adviser under the RoGEP scheme.
Seamus is a respected practitioner both as a geotechnical/hydrogeological expert and as a land contamination expert. He has worked as a consultant for almost 40 years and is a past chair of both the AGS (Association of Geotechnical & Geoenvironmental Specialists) (2013-2015) and the Land Forum (2014-2015) (now the National Brownfield).
He was a founding committee member of The Society of Brownfield Risk Assessment (SoBRA) and is chair of the National Brownfield Forum's Professional Standards Committee leading the initiative to deliver the National Quality Mark Scheme for land affected by contamination.
Through his firm, Seamus works as a consultant to both local authorities and developers and endeavours to bring an experienced and practical eye to the solution of all manner of drainage and ground-related problems.