This webinar will explore the complexities of a case study at an industrial site in Scotland. High concentrations, including DNAPL, of mixed chlorinated solvents (TCA and TCE) were present in the groundwater under an active industrial site in Scotland. A DPVE system had been unable to achieve the remediation goal of a 75% reduction in chlorinated solvent mass. Also a supplementary MIP investigation showed that there was further contamination deeper than the maximum treatment depth of the DPVE system (> 6mBGL). Therefore it was determined that an alternative remediation method was required.
A combined biostimulation and bioaugmentation treatment was designed. Using direct push injection, a high volume, micellar electron donor and a microbial consortium specifically designed to degrade both chlorinated ethenes and ethanes, this would then be co-injected between 3-9mBGL across an area of 1,200m2.
---
About the Speaker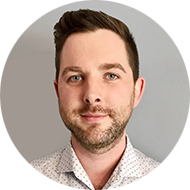 Jack manages the UK and Scandinavian business district within Regenesis Europe. As part of this role, he manages a team providing technical support and design work to a mix of Design and Build Consultancies, Remediation Contractors and Blue-Chip Clients. Jack has over 10 yrs of experience within the remediation industry and most recently has successfully implemented the first injection of PlumeStop to effectively stabilise a PFAS plume in the EU. His experience ranges from supervising site investigations, developing in situ remediation designs, and managing large-scale remediation projects with multiple stakeholders.