IES working groups have been busy preparing bespoke activities for land condition professionals and we want to update you on what's in store this year.
After launching the community in the autumn, we were very pleased to be joined by a group of interested members at our office in October to discuss potential activities and priorities. The group brought a range of excellent and ambitious ideas to this meeting, and great energy to lead their delivery. From this meeting, two working groups were formed to assist the IES staff team in delivering two ambitious projects in the first quarter of 2018. We would like to thank these volunteers for their continuing time, commitment and energy in driving this work forward, and ensuring that the community's programme is truly member-led.
So, what should you look out for over the next three months?
The environmental SCIENTIST – special issue
​This February edition of the environmental SCIENTIST will feature a range of case studies and analysis from across the sector, exploring the science and sustainability of work on land condition.
The Land Condition Symposium
We are excited to be hosting a new event this year, which has been developed directly from suggestions and feedback of our members working on land condition. The inaugural Land Condition Symposium will be held on the 8th March, at the Crowne Plaza London – The City.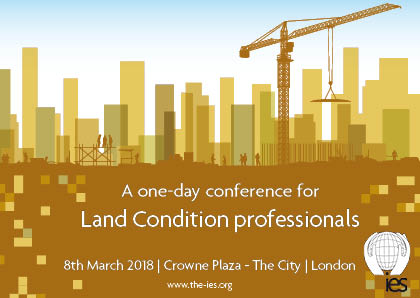 The programme is almost complete, and it's shaping up to be a great day of knowledge exchange and networking.
The symposium will close with a much anticipated panel session, where industry leaders will discuss how the sector may evolve over the next 25 years. Stay tuned for further updates on our illustrious speakers.
If you're considering attending, now is the time to book. Early bird discounted prices end next week, so book before 1st February to save £30 on your ticket.
To reserve your place, or to sign up for email updates on this event, contact IES Events Officer Rhianna Jarvis (rhianna@the-ies.org).
Looking further forward
Following the Symposium, we'll be inviting interested members to contribute to our plans for the next six months. Several interesting ideas - including an early careers network for land condition professionals, targeted chartership mentoring and advice, webinars, and a review of guidance across the sector – are already being considered, but we're keen to hear your thoughts on how the IES can best support your career and professional development.
For more information, or to share thoughts and ideas, please contact Robert Ashcroft (robert@the-ies.org).
We look forward to seeing many of you in London on 8th March!