On 11th October, IES Vice-President Professor Carolyn Roberts appeared before the House of Commons Environmental Audit Committee (EAC) on behalf of the Institution, to give evidence on the challenges and opportunities Brexit presents for the environment.
In the summer, the EAC launched an inquiry into the future of the natural environment after the EU referendum. The IES submitted written evidence to this inquiry, addressing issues of nature conservation, agricultural policy, and the need to also consider fisheries and the marine environment. Some of our submission's key points are summarised as follows:
The EU has developed some of the strongest environmental laws in the world, which have delivered significant benefits for the UK natural environment. It is now crucial that policymakers mobilise the appropriate expertise to map out a future path which can minimise the risks that leaving the EU may pose for the UK environment and maximise any potential benefits.
The future of UK agriculture outside of the Common Agricultural Policy is no doubt significant both for biodiversity and the agricultural sector, but it is not the only important factor for our natural environment. Which, if any, of the wide array of EU Directives relevant to the environment will continue to apply in the UK will depend upon the outcome of Brexit negotiations. Significant scientific expertise will be required to review the UK statute book and evaluate where gaps may emerge, or changes are required.
Whatever trade agreement is reached, the UK will no longer be a party to the EU Nature Directives; action must be taken quickly to ensure that these protections are maintained in UK law.
Leaving the EU does represent an historic opportunity to design a national agricultural policy which rewards land managers for delivering public goods (in line with the ecosystem services agenda), and which is based on science and a holistic approach to environmental systems.
Download our full submission (pdf)
On the basis of our written submission, the Institution was invited to provide a witness to give oral evidence at a session of the committee in Westminster. Professor Roberts represented the IES alongside witnesses from the RSPB, Wildlife Trusts and Queen's University Belfast. During the session, Carolyn successfully emphasised the need for an integrated, systems approach to environmental policy and land management, and made the point, reinforced by many other witnesses, that Brexit represents an opportunity to design an agricultural policy which rewards land managers for delivering public goods.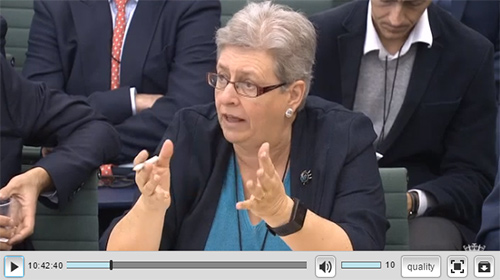 Screenshot from Parliament TV - watch a recording of the whole session here.
Since this session the committee has taken evidence from farming organisations and other groups of academics and NGOs with an interest in rewilding and new models of land management. The final evidence session was with Secretary of State Andrea Leadsom. The committee will now review the evidence received before reporting on its findings, and the IES will follow this process with interest.
For more information about the IES' policy activities, please contact Robert Ashcroft.