For some time, the IES has been the professional body of choice for many land condition professionals. By the end of last year, the number of these specialists had grown to such an extent that land condition became the largest specialism within our membership. To ensure that we are serving this group, we are establishing a new land condition community (replacing our Land Contamination special interest group).
This will be the first of a series of new communities established by the IES to better facilitate engagement with and between our members. The communities will lead the IES's work in their area, generating ideas for events, publications, guidance, policy work and other services and strategies. The IES Policy and Communities Officer, Robert Ashcroft, will be working closely with members to facilitate community activities and to encourage interaction both virtually, and face-to-face.
Members have already contacted us with exciting ideas for activities in this area, and we are establishing structures to enable members to drive this. Based on these conversations we have identified several key activities this community will steer over the coming months. We are thrilled to announce that we will be holding a one-day conference for land condition professionals in March 2018, and will be producing a special issue of the environmental SCIENTIST journal next Spring.
A new event for land condition professionals
Our inaugural land condition conference will be held on 8th March 2018 in London, with the intention to move to another major UK city each subsequent year. This conference will focus on knowledge-sharing, covering a broad range of topical issues in the land condition sector, aimed at, but not solely exclusive to, professionals working in this field. If you work in Land Condition, add this date to your diary, and watch this space for more information.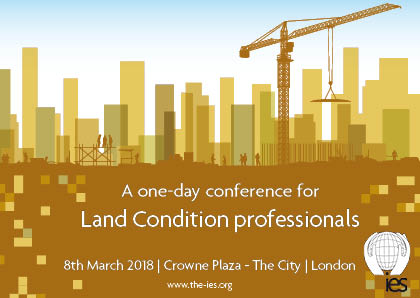 How to get involved
We have produced a document setting out the initial aims and terms of reference (pdf) for this community.
To hear your views on these aims, and what else should be included in the community's action plan, we will be hosting a meeting at the IES offices on Thursday 12th October, from 10.30am -12.30pm, followed by a networking sandwich lunch. This will be a chance to feed in your ideas, get involved in working groups to deliver exciting new projects, and meet some of your fellow professionals working in the field. If you are interested in attending this meeting, please register here, and use the password LCMeeting.
If you are unable to attend this meeting, please contribute to the online discussion in our relaunched LinkedIn group. We hope this will become a vibrant hub for debate, knowledge sharing and online networking for land condition professionals, and encourage you to contribute to the discussion regularly.
Talking about this new initiative, IES CEO, Adam Donnan said:
"Land condition professionals are a vibrant sector of the IES membership, and I'm delighted to be launching this new community to make sure these professionals are getting the most out of their membership. We are dedicating a lot of resources to making this community a success, and I am looking forward to seeing, and then helping realise, the projects generated by the community."