The everyday – those familiar things which we take for granted without considering how they connect with, and depend on, nature. In his new book Mark Everard explores these connections and, along the way, provides a wealth of fascinating facts. Here ecology is interpreted broadly and the book provides thought-provoking historical, industrial, social and, on occasions, theological context.
After an introductory chapter reflecting on the nature of our modern society, Mark starts in a very British way – with a cup of tea. And it may be a good idea to have a freshly brewed cup in hand as you settle down to enjoy the chapter. We learn about the plant itself, that as long as 4,700 years ago the Chinese Emperor Shennong noted medicinal benefits, its transplantation across much of the world, the value of the tea trade, its cultural and historical significance, including the Boston tea party. But a cup of tea requires much more than the tea plant, and the chapter goes on to cover the ecology of the water, the electricity and even the cup itself.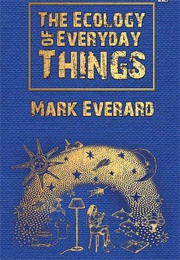 In the chapter on newspapers, after describing the history and ecology of paper-making, Mark reflects on their social role in disseminating information, diverse viewpoints and propaganda throughout society; albeit a role which has assumed lesser importance in today's electronic world. Newspapers usually have a very short lifetime and he draws an interesting analogy between newspapers and mayflies, butterflies and leaves. All are ephemeral forms within much larger life cycles serving a particular function at a particular time.
Other everyday things covered include t-shirts, a bowl of rice, fresh air and a hot bath, before the book moves on to cover more obviously natural objects: trees, 'unappealing creatures' such as wasps and woodlice and, not surprisingly given the author's interests, fish!
The thinking which underpins this book is nicely encapsulated in a short description of how the author's home village has changed over the centuries – even the name from Somerford Magna to Great Somerford. While the importance of ecosystems was once readily apparent to villagers, today it may seem far removed from day to day life. But it is still there, supplying and regenerating the materials necessary for life. The book ends with a discussion of the ecology of space travel, along with some further reflections on Living on a Planet and the associated sustainability challenges.
With numerous references for the reader who wishes to explore further, this is an entertaining journey. The author makes it clear that this book is not intended to be didactic (although it may occasionally stray a little in that direction); rather it aims to celebrate the complex natural linkages which underpin our everyday activities. And it does so wonderfully well.
This slender volume is well worth a place on your bookshelf - read it (with or without a cup of tea), enjoy it, think about it – and encourage your friends to do likewise.
The Ecology of Everyday Things
Mark Everard (Author) | ISBN: 978099321196 | Published: November 2015 | Publisher: Cultured Llama