At its heart, this book looks to set out an approach to science and practice that can "transform society towards greater sustainability". This is very much in keeping with the approach that we champion within the IES.
Ariane König, from the University of Luxembourg, has edited this multi-author volume and she argues that a new concept, of 'transformative sustainability science' is required that is driven by three key approaches: future-orientation, systems-thinking and social learning.
The book comprises 19 highly diverse chapters, structured in three parts:
Part I looks at tools and methods to help grasp complexity and alternative futures;
Part II sets out a series of sectoral challenges and asks what might transformations look like in areas such as agriculture, energy and water; and
Part III tackles core issues in any scientific approach around what to measure and how when tracking, steering and judging transformations.
Koenig states on the first page of the first chapter that: "This book's main premise is that one of the most fundamental challenges we face as we are affecting the functioning of the entire planetary system, is up develop new approaches to knowledge co-creation and governance that will enable us to relate to our environment and to each other in view of more complex interdependencies between local and global circumstances, in how we conceive of the natural and social worlds, now and in the future."
The silo-based approaches to scientific disciplines, to sectors of society and to research and practice are simply not adequate for the challenges we face. And new approaches are required. The book's contributors stem from a hugely diverse range of perspectives.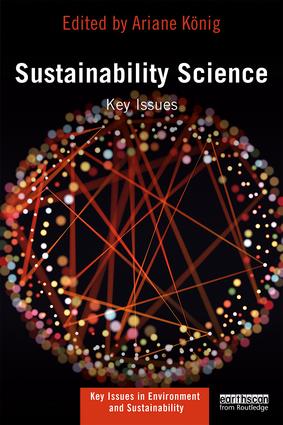 These include ecology, economics, geography, engineering, finance, participatory dialogue, architecture and design, education, information technology, physics, policy and strategy, modelling, philosophy and statistics... But the key point and a central argument of the book and to the practice of sustainability science it espouses is that no one perspective is either wholly correct or solely sufficient! It is the coming together of such perspectives through co-creation of knowledge that is critical and this is a message at the core of the IES's mission!
The opportunities of the 'networked society' are heralded in this volume as central ways in which to bring about such transformations not only in what science we do as academics and practitioners but in who we work with, how we work and the impacts we can achieve.
A real must-read for IES members!
Sustainability Science: Key Issues
Ariane König, Jerome Ravetz (Authors) | ISBN: 9781317216629 | Published: November 2017 | Publisher: Routledge