One of the key building blocks in Theresa May's plans for a successful post-Brexit Britain is the development of a national Industrial Strategy. In the Prime Minister's Cabinet and Whitehall reshuffle shortly after she took office, departmental boundaries and remits were rearranged, leading to the formation of the Department of Business, Energy and Industrial Strategy, headed by Secretary of State Greg Clark. This move was an early signal that May's Government intended to adopt a more active approach to industrial strategy than the previous coalition and Cameron governments.
What is industrial strategy?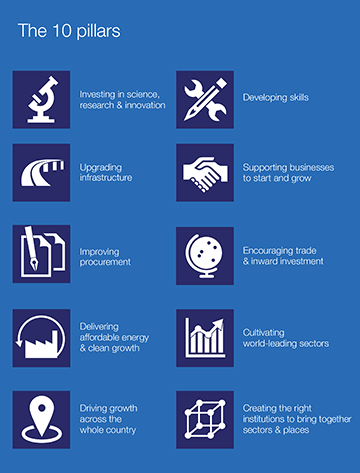 A House of Commons Library Briefing paper explains that industrial strategy "is about coordinating a wide range of economic policies to achieve particular objectives, which need not be purely economic". It seems that this strategy represents a framework, rather than simply a collection of policies of interventions.
In the green paper Building our Industrial Strategy, published on 23rd January, the Government sets out its proposals under ten 'pillars', which they hope will drive growth. The actions outlined under these pillars are a mix of existing, or previously announced policies and new commitments. Rather than a focus on specific industrial sectors (which have characterised some historic industrial strategies), this paper focuses primarily on cross-sector, or 'horizontal' policy interventions, such as investment in scientific research and measures to promote skills development.
Significance for environmental scientists
The Government is currently consulting on its industrial strategy green paper, and the IES will be submitting a response. Industrial strategy is no longer just about promoting growth in key manufacturing sectors – it will be a policy framework which, if appropriately developed and embedded across government, has the potential to deliver a range of positive economic, social and environmental outcomes.
The UK is home to world-leading environmental research. For sustainable growth into the future, and for the wellbeing of communities all over the UK, the transition to a greener, low-carbon economy is crucial. To make and benefit from this transition, the UK must capitalise on and continue to develop its outstanding research base. Scientific and sustainability skills must be promoted to ensure appropriate infrastructure is in place to facilitate innovation. The pillars of this industrial strategy outline some proposals on how this might be achieved. It is now the role of scientists, businesses and the wider sector to engage with the government and provide the ideas, expertise and evidence to help realise these ambitions, and to hold Government to account in embedding sustainability at the heart of the strategy.
Investing in science, research and innovation
The first pillar of the strategy concerns investment in science and research. The previous government has shown its support for scientific research, by protecting funding at the last spending review. However, in terms of percentage of GDP invested in research, the UK remains behind many of its global peers.
In this strategy the government identifies several priority areas for research investment, notably clean energy and battery technology. In part this investment will be delivered through a new Industrial Strategy Challenge Fund, which will be a funding stream available to the new UK Research and Investment (UKRI) agency to support the development of new technologies which may span various traditional interdisciplinary boundaries.
This new holistic approach is welcome, and the IES will be making the case for investment in multi- and interdisciplinary science in its submission. Such research can deliver major social and environmental impact, as well as significant economic returns. It is by escaping disciplinary silos that we can better tackle major societal challenges (or 'wicked problems'), and research funding structures should reflect this.
There are certainly areas in which further research and innovation support would be extremely beneficial. For instance, innovations in new materials, eco-design and research on the transition to a circular economy has major potential to deliver sustainable growth. Recognising the fundamental underpinning of economic and industrial processes by ecosystem services, support for further research in this area could deliver new tools for modelling, assessment and accounting. The air pollution crisis costs the economy vast sums every year, and has a major impact on public health – investment to support cross-sector research initiatives in this area could generate new technologies whilst improving the wellbeing of urban populations.
The Government is seeking views on what further areas should be prioritised for science, research and innovation investment, and what challenge areas the Industrial Strategy Challenge Fund should focus on to drive maximum economic growth. We would welcome the thoughts and ideas of members on these points to inform the Institution's submission.
Developing skills
A major priority for the Government is increasing the UK's productivity (the GDP produced per hour worked), an area where the country falls behind global competitors. The Government identifies skills deficits in certain key areas as one cause of this, and presents proposals for addressing these gaps. This includes new structures and greater support for technical education and apprenticeships. Proposals are also presented to increase the number of STEM graduates, and promote lifelong learning.
The IES is currently undertaking an analysis of how the environmental science sector can better support and prepare graduates for the workplace, and increase employability. It is vital that the sector not only produces sufficient graduates, but also that they are equipped with the necessary technical and business skills for their careers.
Do you experience any skills shortages in your organisations, or expect them in the near future? How could these shortages be addressed? We welcome your views to inform our consultation response.
Sustainable growth
We are pleased to see the recognition within the strategy for the importance of decarbonising, and investing in low carbon technologies. The strategy should, however, emphasise the myriad of opportunities from transitioning to a low carbon economy, rather than a narrow focus on limiting the costs of meeting emissions targets.
As well as the obvious environmental benefits of investing in low carbon technology, innovation in the green economy should be encouraged and supported, as this sector is a major and fast growing contributor to the UK economy. As Government statistics show, in 2013 the Gross Value Added by the low carbon sector (and associated supply chain) to the UK economy was estimated at £44.9 bn, and it is showing significant year-on-year growth: 8.7% over the period 2010-2013. This is without considering the cost savings associated with improvements in public health, and offsetting the impacts of climate change which some of these technologies, if widely adopted, could bring about.
Important proposals on ultra-low emission vehicles, and ensuring the UK's energy grid infrastructure is ready for the transition to electric vehicles are explained in this green paper, as is a review on how best to support greater energy efficiency. The government asks for views on how they can better support business to realise cost savings through resource and energy efficiency.
Get involved
The IES Council and policy team have been developing the Institution's response to the green paper, and will be drafting our final submission to the inquiry which closes on the 17th April over the coming weeks. At a time of such uncertainty regarding the UK's place in the world, challenges for our scientific research sector, and a confusing picture for our environmental legislation, the opportunity to embed sustainability at the heart of a headline government strategy is extremely valuable. We must make the case for continued support for science and cross-border, interdisciplinary collaboration, and we must argue for investment in low-carbon technologies as a fundamental driver for long-term sustainable growth and public wellbeing improvements.
We would value the views of members in preparing our submission. If you have thoughts or evidence you could contribute on the questions highlighted above, or on any of the consultation questions in the Government's green paper, please get in touch by contacting Robert Ashcroft.