This webinar series will explore the culture and attitudes around entrepreneurship in the environmental science sector. Over the coming months, we will hear from a range of successful entrepreneurs, who have pioneered innovated and grown businesses in the sector. Our speakers will share their experiences and discuss key challenges and opportunities they faced when establishing their businesses.
More broadly, the series will attempt to explore how prevalent the entrepreneurial spirit is within environmental science and will challenge the viewpoint that innovation only comes from engineers and product designers, not scientists. It will also explore the skills environmental scientists need to become successful entrepreneurs.
In this next episode, Dr Kat Bruce, Co-founder and Managing Director of UK start-up NatureMetrics, will share her experiences of establishing and running a start-up company and the challenges she faced in being a successful entrepreneur in the industry.
---
About the speaker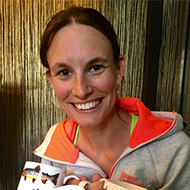 As a PhD student, Kat explored the use of high-throughput DNA sequencing as a tool for generating huge biodiversity datasets from complex environmental samples, and using these to inform environmental management. Struck by fact that powerful molecular biomonitoring studies were rarely ever communicated to applied ecologists and potential end-users, Kat co-founded NatureMetrics to bridge the gap and turn these revolutionary methods into accessible tools for environmental managers and applied biologists.
NatureMetrics began trading in March 2016. The company's services range from simple tests such as screening water samples for Great Crested Newt DNA (important in planning contexts) through to large-scale biodiversity baselining assessments for environmental impact assessments worldwide. It is the only company in the UK that can carry out a fish survey from a water sample.
Meanwhile, Kat is also leading a European working group of over 150 scientists who are aiming to establish best practice for DNA-based monitoring so that the approach can be incorporated into the Water Framework Directive. She particularly enjoys working in the intersection of research, industry and policy to drive forward advances in our capacity to monitor the natural world.
Register for this free webinar.